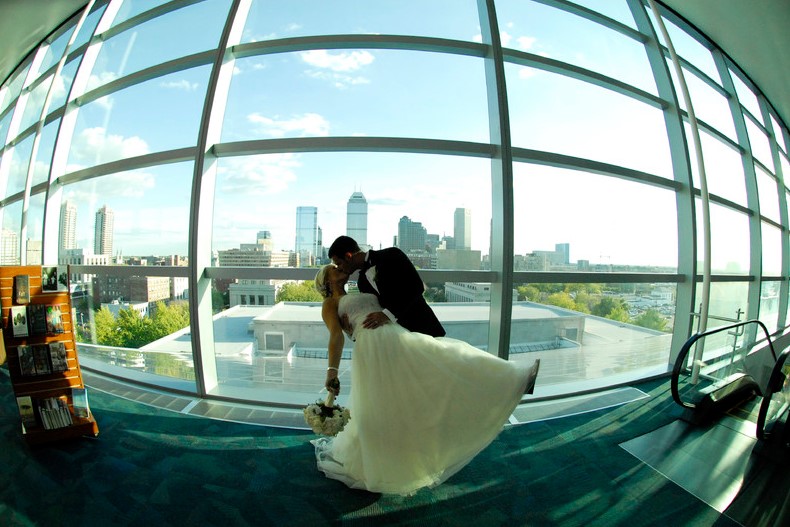 Your Indianapolis wedding will be a day to remember. There are so many venues that you are sure to find a place to celebrate that reflects the style of you both as a couple. From receptions in ballrooms and grand hotels to a private clubhouse overlooking the canal, Indianapolis offers wedding venues as varied as any bride's dream. Modern or romantic, small or expansive, understated or grand, anyone can find the perfect wedding venues in Indiana to fit their wishes.
It is worth remembering that a wedding venue's success is closely connected to the wedding co-ordinator and venue manager, so when checking reviews, it is worth paying attention to who the people are behind the bricks and mortar, as these will make your wedding day the fairy tale you wish.
Here are some of the best wedding venues for those seeking an Indianapolis wedding:
Lucas Oil Stadium
The perfect backdrop for Colts fans makes this a uniquely Indianapolis wedding. From the Quarterback Suite, East or West Club Lounges, Lucas Oil Plaza or even on the field, your wedding will long be remembered and the costs start at just 500 dollars. So, if you want a royal blue bridal gown, a ring-bearer in an Indianapolis Colts jersey and flower girls with cheer-leading pompoms, this is your venue. And at the rehearsal, you can do what many dream of: run routes, throw footballs, kick field goals and score touchdowns on the Lucas Oil field. The downside, finding a date in their schedule.
Valle Vista Country Club
A beautiful indoor or outdoor ceremony without the weather worries. Add an elegant reception for forty up to six-hundred guests and the beautiful golf course grounds serve as a breathtaking backdrop for all your wedding photography. All this in a single location. Horse and carriage ceremonies can also be arranged here and all at affordable prices.
Omni Severin Hotel
Indianapolis weddings are held at many of the city's hotels, but this elegant, four-diamond hotel has a ballroom and adjoining lobby with a sweeping marble staircase that creates one of the most magnificent wedding venues in downtown Indianapolis. Wedding guests dine under the original Austrian crystal chandelier with fabulous food from in-house caterers.
The Sanctuary on Penn
The first and only all inclusive event venue in Indianapolis, The Sanctuary on Penn is a beautiful church building in the heart of the city that has everything you need for both your ceremony and reception. A traditional and ornate exterior with an ancient Roman ruin interior design, the space is one of the truly unique wedding venues in the city.
Northside Knights of Columbus
The Northside Knights of Columbus is a hidden jewel just minutes from the many northside hotels. They offer a ballroom, dining room and a smaller room with direct access to a wraparound patio with a beautiful lake view. With in-house catering for groups of thirty to 350 people, this is also a convenient location for those travelling into Indianapolis for your wedding.
Scottish Rite Cathedral
If you want to marry in a place of historic elegance, the Scottish Rite Cathedral offers an elegant ballroom, spacious grand hall, beautiful south lounge, one-thousand person theater and several meeting rooms of various sizes.
Indianapolis Zoo and White River Gardens
Experience gorgeous gardens, breathtaking views and a choice of memorable venues as the backdrop. Winner of the 2016 WeddingWire Couples' Choice Award, the zoo offers the Efroymson Wedding Garden, Pavilion Party and the Hulman Riverhouse with great views of the city. The Dolphin Gallery gives you private access to the world's only underwater dolphin viewing dome.